Tough problems, like unfair access to STEM education and careers, can't be solved unless people and groups act together. Progress also depends on bringing together many points of view.
We include and collaborate with people who are or used to be in prison to lead this work. They bring their expert knowledge, experience, creativity, and humanity to solving the system problems that prolong inequity.
We have set up three main types of groups to help with active community involvement. These groups enable STEM-OPS to achieve its vision.
All persons impacted by the carceral system are able, and encouraged, to pursue a culturally responsive and equitable high-quality STEM education and career.
Our affinity groups are made up of STEM-OPS founding members and partners. Over 60
organizations came together and formed eight groups. These groups discussed and
identified the main roadblocks to achieving the STEM-OPS vision; they also shaped our
shared action plan seen in the strategy map (shown below; click the image to enlarge). Many of them also joined in as part of the
system map groups and the working groups.
• Northeast
• Southeast
• Midwest
• West Coast
• Data and Measures
• Disrupting the School to Prison Pipeline
• Formerly Incarcerated Women
• Re-Entry and Mentoring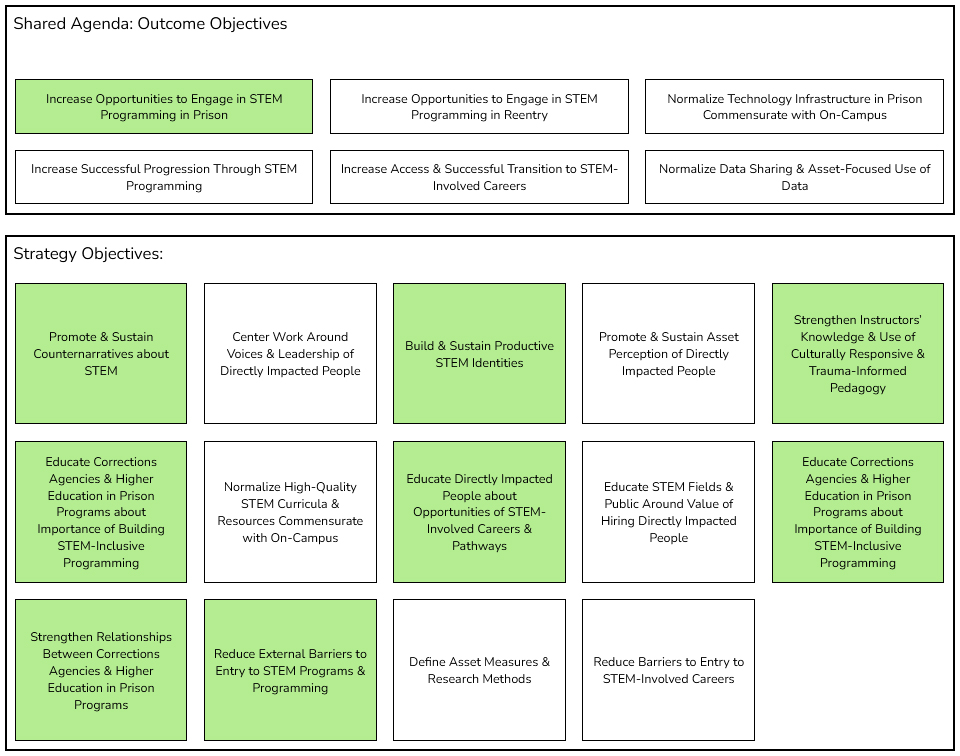 Click on any Outcome Objectives to see the related strategies.
Shared Agenda: Outcome Objectives
Increase Opportunities to Engage in STEM Programming in Prison
Increase Opportunities to Engage in STEM Programming in Reentry
Normalize Technology Infrastructure in Prison Commensurate with On-Campus
Increase Successful Progression Through STEM Programming
Increase Access & Successful Transition to STEM-Involved Careers
Normalize Data Sharing & Asset-Focused Use of Data
Promote & Sustain Counternarratives about STEM
Center Work Around Voices & Leadership of Directly Impacted People
Build & Sustain Productive STEM Identities
Promote & Sustain Asset Perception of Directly Impacted People
Strengthen Instructors' Knowledge & Use of Culturally Responsive & Trauma-Informed Pedagogy
Educate Corrections Agencies & Higher Education in Prison Programs about Importance of Building STEM-Inclusive Programming
Normalize High-Quality STEM Curricula & Resources Commensurate with On-Campus
Educate Directly Impacted People about Opportunities of STEM-Involved Careers & Pathways
Educate STEM Fields & Public Around Value of Hiring Directly Impacted People
Educate Corrections Agencies & Higher Education in Prison Programs about Importance of Building STEM-Inclusive Programming
Strengthen Relationships Between Corrections Agencies & Higher Education in Prison Programs
Reduce External Barriers to Entry to STEM Programs & Programming
Define Asset Measures & Research Methods
Reduce Barriers to Entry to STEM-Involved Careers