It Takes a Village: Memories of a Successful STEM-OPS Convening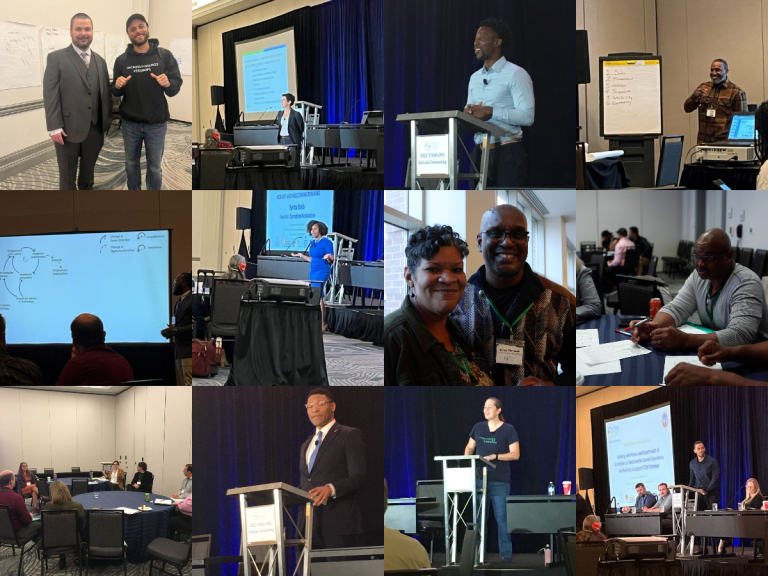 Author: Una MacDowell, Education Development Center
STEM-OPS held the first in-person convening dedicated to expanding access to STEM education and careers to people impacted by incarceration on October 25–27 in St. Louis. MO. The three-day event brought many and varied stakeholders together; over 100 people and organizations attended including:
Justice-impacted students and professionals in STEM fields
STEM college and university faculty
K–12 STEM educators
Departments of corrections education staff
Nonprofit and for-profit businesses in STEM fields committed to equitable employment
Advocates for STEM programs in prison settings
Organizations supporting people who are justice impacted
Louis community leaders
Reentry programs
A representative from the STEM-OPS funder, the National Science Foundation
Most importantly, true to our mission of including the voices of formerly incarcerated in leadership roles, over 60% of the individuals who presented at the conference were formerly incarcerated.
Keynote speakers included Missouri State Senator Brian Williams; Syrita Steib, founder of Operation Restoration; Raquel Pinderhughes, founder of Roots of Success; and Jessica Hicklin and Haley Shoaf, co-founders of UnlockedLabs. We were also treated with a viewing of POV's powerful docufilm Let the Little Light Shine.
Several organizations presented in teams at the convening. One team was a local group of faculty and staff from the Prison Education Project (PEP) at Washington University in St. Louis, led by PEP Director Kevin Windhauser. In addition to the PEP faculty and staff who presented, several alumni of the program also presented at the convening. Harvey Galler, a 2019 PEP graduate and founder of the STL Reentry Collective, shared his work using documentary filmmaking as an advocacy tool. Galler also presented with fellow PEP alum Jameel Spann, Initiative for Race Research and Justice, Vanderbilt University, on their STEM-OPS working group's development of an assessment tool to measure best practices for providing higher education in prison alums with reentry support.
One of the convening keynote speakers, Jessica Hicklin, was a PEP programmer who first worked with PEP through Washington University's Dev Shop at Potosi Correctional Center, where she served as the project's lead coder. Hicklin has continued to work with PEP as a programmer building a learning management system (LMS) to provide incarcerated students with course management and content access tools that can support higher education programs like those at Washington University. "People who are close to the problem are usually close to the solutions," explained Hicklin during her presentation. Our thanks to PEP for their great collaboration in this event. You can read more about PEPs attendance at the convening on their own blog.
Here are some incredible takeaways from attendees and presenters via Twitter:
From Prison Cells to PhD @prison2pro ….Educational…Uplifting…Amazing…Community…Motivation…Galvanizing… Enlightening…Collaboration…Messengers…Synergistic…Eye-opening…Unforgettable
Evolution Reentry Services @evreentry
Fantastic conference, moving and learning and networking. Everything anyone in this space needs! Thank you #STEMOPS2022…
Bard Prison Initiative @BPIBard
We had an amazing time at this year's @STEM_OPS conference and can't wait to be there again next time!
Dante Richardson @DonTayga
👨🏾‍💻📈💰@STEM_OPS in St. Louis was a great event. I was [able] to speak on a panel and share my experiences in the field.
In addition, the convening was featured on St. Louis Public Radio. Listen to the report, featuring an interview with STEM-OPS PI Eden Badertscher and one of our plenary speakers, Jessica Hicklin of Unlocked Labs, to hear more about how the STEM-OPS program brings STEM education to prisons. 
View a brief video montage from the event.
Check back here to view videos of plenary sessions, to be posted soon!!!