Introducing The sySTEM Impacted Podcast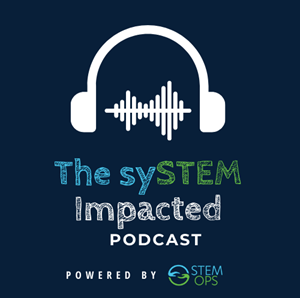 Author: Jacob Bennett, Initiative for Race Research & Justice at Vanderbilt University
STEM-OPS is proud to present our ongoing podcast series, The sySTEM Impacted. Led by Chris Etienne (PTI) and Terrell Blount (EDC), the podcast shares stories of system-impacted people's struggles and successes related to accessing STEM education and careers through topics such as mental health awareness and application of trauma-informed practices to support people impacted by incarceration.  Chris and Terrell provide a platform to allow people to recognize the power of their own voices and display the humanity in all of us. We hope to grant the public an intimate perspective on how these broader social issues directly impact at-risk populations by highlighting stories such as these.
In our first episode, titled "Trauma-informed Teaching and Holistic Teaching Practices in Carceral Spaces," Etienne and Blount talk with Kristi Webb and Maiya Monteiro of the Maya Angelou Academy at New Beginnings Youth Development Center, a charter school operated within the Department of Youth Rehabilitation Services. Webb discusses her experiences teaching, coaching, and guiding students in secondary and collegiate education. She began her career in 2003 as a middle school teacher, which informs her views regarding mental health and schooling. Monteiro has dedicated the past 2 years to preparing incarcerated youth to transition into the community, offering workforce development, college preparation, and social and emotional learning opportunities.
Some topics the hosts discuss with these two amazing guests include the irony of a "one-size-fits-all" holistic curriculum, how mental health training and trauma informed teaching are related, and positionality and racialization.